FOUNDED ON THE BELIEF THAT THE JOURNEY IS AS DEAR AS THE DESTINATION, NOÉMIE MAKES FINE JEWELRY FOR LIFE'S EVERY MOMENT.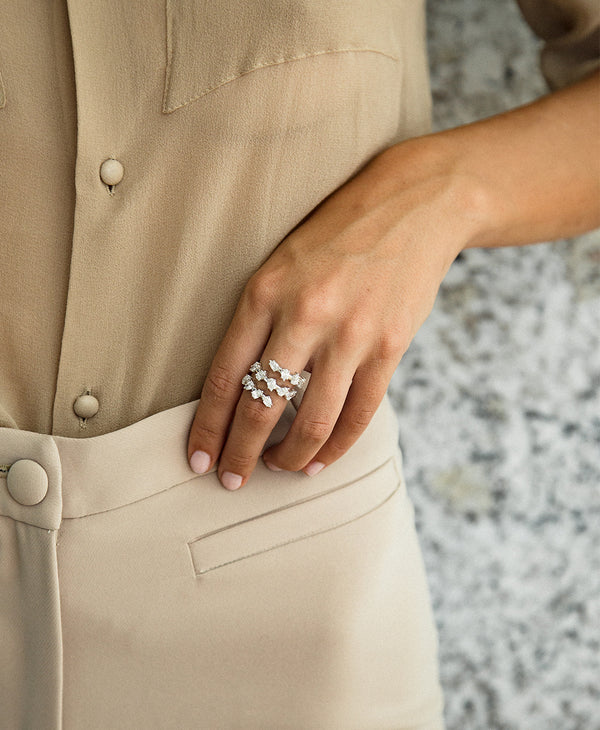 With handcrafted jewelry that endures, quality matters. A major part of our commitment to our customers is to exclusively work with higher quality materials – solid 18 karat gold, certified VS clarity and F-G color diamonds.
24K
Pure Gold
Used rarely in jewelry.
Highly limited strength
18K
75% Gold
Superb quality
Balance of Purity & Strength
14K
58% Gold
Most common quality
Good material strength
10K
40% Gold
Lower industry quality
Very price accessible
We only use 18 karat gold in our jewelry for the perfect balance between purity and strength however if you need 14k you can place a custom order. Karats measure the purity of the precious metal. Some people confuse it with carats, which measure the weight of diamonds. The purest form of gold is measured at 24 karats but not recommended for the longevity of quality jewelry.

"Noémie specializes in both timeless designs and custom pieces that feature conflict-free stones. We think its custom design option offers exceptional value, making it one of the best online jewelry stores for custom pieces."

"Noémie is a fine jewelry label where each 18K piece is uniquely and beautifully made, but at a fraction of the cost."

Noémie is on a mission to change the way fine jewelry is purchased by offering a direct-to-consumer sales model that translates into big savings for buyers but while also maintaining all of the aspects one would expect purchasing fine jewelry through a trusted family jeweler.'"
"Here to simplify the process—and offer beautiful, high-quality fine jewelry for fair prices, too—is Noémie, a direct-to-consumer label With Noémie, Alpert is 'eliminating the middle man'—aka brick-and-mortar retailers—by selling directly to shoppers on HelloNoemie.com. The business is vertically integrated, too, so Alpert and his team control every step of the process—another way to keep prices low."
Make It Yours.
Jewelry is personal, and ours is designed for the heart of your collection. Combining a legacy of craftsmanship with modern convenience— solid 18K gold, natural conflict-free diamonds, and the option to order lab-grown diamonds — the choice is in your hands. Whatever the path, your Noémie jewelry is made in forever quality: jewelry for today and heirlooms of tomorrow.
Shop Now
Join Our Newsletter
and be the first to know about new limited edition designs.